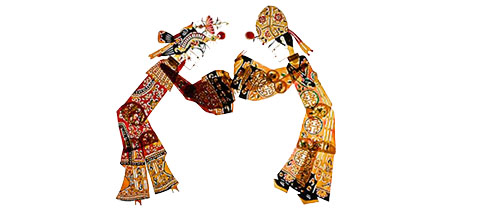 Chinese Shadow (shadow, image), which can also be called "Chinese Shadow Play or Chinese Shadow Puppet play", is one of the most ancient genres of drama in China. It came into being in the Han Dynasty (206B.C.-A.D.220) and has more than two thousand years' history.
Popular among the people of China, Chinese Shadow is a dramatic form, which uses lantern to project shadows on the screen. The artistic effect of the play is produced through light, screen, music, singing, and puppet operation. The shadow plays are widely stated " a magic, lightning-like art" and win people's high praise in many countries' visit. The puppets in the shadow play are made of transparent leather. Chinese shadow artists first carve out the lines of the design and then dye them in bright colors. These transparent leather puppets become very lively and beautiful under the lantern light. With strong local characteristics, the shadow puppets are folk handiworks and a wisdom crystallization of Chinese shadow play artists through the ages. The exquisite shadow puppets not only can be played by you but also are a good choice for house ornament. Many state art museums and Chinese Shadow fans collect elegant Chinese shadow Puppets.

One Response to "Shadow Show"
kiri Says:
June 10th, 2008 at 10:27 am

can someone help me, everyone keeps saying how ancient beautiful and popular shadow puppets are but no-one seems to know where i can see an actual show! Based in shanghai at moment but on road a fair bit – can anyone help?