The Lantern Festival (also called Yuanxiao Festival) is on the 15th day of the first Chinese lunar month. It is closely related to the Spring Festival. In the old days, people began preparing for the Spring Festival about 20 days prior to the actual celebration, and end all festivities after the Lantern Festival. Yuan means first, and Xiao means night. Yuanxiao thus came to symbolize the first night of a full moon in a new year. It is traditionally a time for family reunions.
The largest Lantern Festival celebration took place in Beijing in the early decades of the 15th century. The festivities continued for ten days. Emperor Chengzu had the downtown area set aside as a site for displaying the lanterns. The emperor's particular fondness for lanterns (and his generosity when it comes to acquiring them) turned the area into a marketplace where lanterns were sold during the day, and put on display for all the local people to see in the night. It came to be known as Dengshikou (lantern market) and managed to retain this name all the way down to the present day.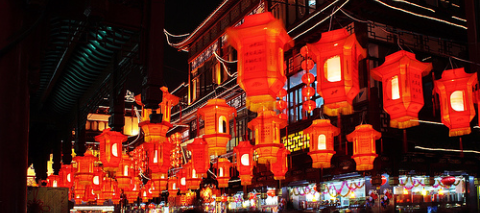 Besides entertainment and beautiful lanterns, another important part of the Lantern Festival or Yuanxiao Festival is eating small dumpling balls made of glutinous rice. These rice balls are called "yuanxiao"s and received their name from the festival itself. It is said that the custom of eating yuanxiao originated during the Eastern Jin Dynasty in the fourth century, and became popular during the Tang and Song periods.
The fillings inside the yuanxiaos are either sweet or salty. Sweet fillings are made of sugar, walnuts, sesame, osmanthus flowers, rose petals, sweetened tangerine peel, bean paste, or jujube paste. A single ingredient or any combination can be used as the filling. The salty variety is filled with minced meat, vegetables or a mixture of them.