The new Shanghai History Museum, located now just below the Oriental TV Tower at Pudong New Area, was formally opened to the public on July 1, 2000. There are three major exhibition units reflecting Shanghai's history, modern and recent revolutionary history.
Founded in September 1983, Shanghai History Museum was formerly known as Shanghai Historical Relic Exhibition Hall and got the present name in 1991. In 1992, the Museum was moved to Hongqiao Road as the temporary site, and the exhibition hall was expanded to 1,400 square meters. The 40,000-plus exhibits collected by the Museum reflect the historic vicissitudes of the Shanghai city.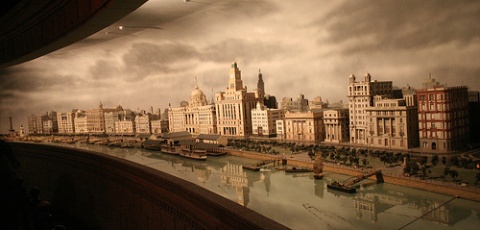 Many historical exhibits — bronze tigers which originally stood in front of the Hongkong and Shanghai Banking Corporation, printing machines the Commercial Press bought from the United States in the 1920s, a model of the Bund set in the 1930s and the model of the Hardoon Garden — are now already in their new home in Pudong.
In a 4,000-square-metre exhibition hall, the 1,000 artifacts and exhibits are elaborately arranged to revive the old Shanghai. Amidst the unique shikumen, or stone-arched houses and various Chinese shops, visitors are able to savor the charm of the oriental metropolis, once the largest city in the Far East.
Most exciting for many will be the "performing zone". Every day, performances are staged to tell the history of different periods — from the late Qing Dynasty (1644-1911) to the 1940s. Audiences can experience the old atmosphere with the help of the actors' songs and verbal and body languages.
A documentary about the Jewish influx to Shanghai to escape the Holocaust is on display regularly at the museum.